The King with Dirty Feet  by Sally Pomme Clayton, illustrated by Rhiannon Sanderson (Otter-Barry Books 2021/ 2018)
New paperback 2021
Wiiner of 'Best Picutre Book', Oxford Book Awards 2019
The king has not had a bath for a whole year, and he is starting to smell. When the king finally bathes in the river, he can not get his feet clean. His servant Gabu has three days to rid the land of dirt and dust. Gabu sweeps, brushes, and stitches – as he tries to clean up the kingdom. This new picture book is a re-telling of an old and beloved folktale from Bangladesh. It is gentle and humorous and has a twist at the end. The King with Dirty Feet is about a very important invention we cannot do without!
The King with Dirty Feet (Otter-Barry Books 2018) is illustrated by Rhiannon Sanderson, who brings the story to life with fun illustrations that are perfect for younger children. She has created a sweet monkey character who appears throughout the pages, helping Gabu and teasing the king. The King with Dirty Feet is perfect to read aloud, helping younger children develop listening and storytelling skills with its rhythm and repetition, and strong story structure.
The King with Dirty Feet  is one of  Sally Pomme's best-loved tales. It was the very first story she wrote and published, and has had many unexpected incarnations. Read about the history of the story on her blog.  She has created a new storytelling performance to go with the book, where she tells The King with Dirty Feet, along with other fairytales about shoes. The performance has musical sounds, actions, rhymes to join in with, and some very special teeny tiny shoes for young audiences to look at and learn about shoes from different parts of the World. This lovely, inclusive storytelling show has been performed at: Omnibus Theatre; Beyond the Border Storytelling Festival; Brent Libraries; Dhaka Lit Fest; The Southbank Centre; Glamorgan Libraries; Bromley Libraries; Oxford Storytelling Festival, and many schools.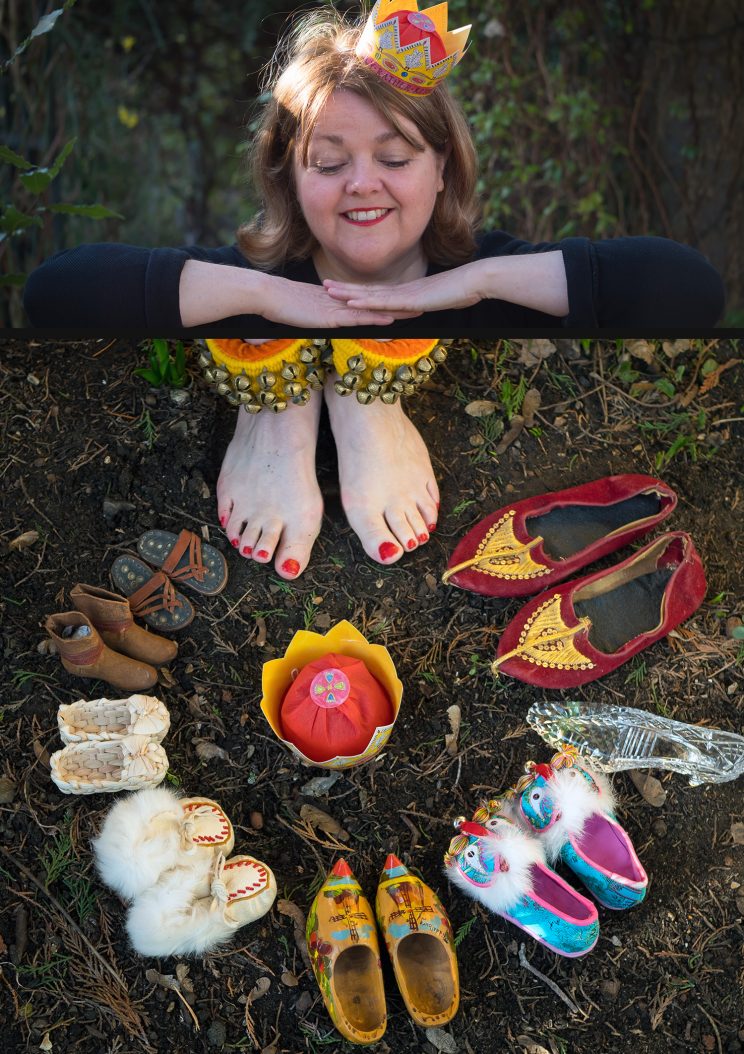 The King with Dirty Feet
This interactive storytelling performance is perfect for  5 – 9 year olds. It lasts an hour, and explores how shoes are represented in fairytales and myths around the World, from magic moccasins to glass slippers, from dancing princesses to shoe-making elves. It looks at what shoes are made of, and their cultural meanings. Every shoe tells a story!  It is perfect for schools, museums, festivals, and community  groups. Make a booking!