Illustrations by Sophie Herxheimer 'Tales Told in Tents' (Frances Lincoln 2004)
Audience – 6 upwards
Length – flexible, 30 mins to 75 mins
Make a booking
Tales Told in Tents is a vibrant performance, based on Sally Pomme's book, that takes the audience on a storytelling journey through Central Asia, weaving little known myths and fairytales with cultural description and anecdotes of extraordinary travels.
"A lovely book about the magic of stories  told from memory….Clayton shares stories, riddles, proverbs and snatches of song from a region that is in the news every day, yet remains impossibly exotic." Washington Post.

Sally Pomme has been researching Central Asian oral traditions for many years. Tales Told in Tents brings stories she has heard and found, evoking the mountains and steppe, and the important role the storyteller has in nomadic societies, where stories are treasured. The performance shares the rich, diverse heritage of Islamic and Pre-Islamic traditions of Central Asia, a part of the world that is under-represented and misunderstood.  For school groups Sally Pomme often brings her collection of Central Asian costumes to the performance for children to look at and even try on!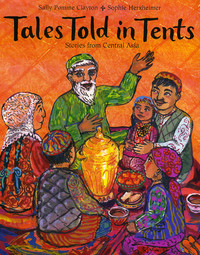 "These vivid reconstructions of nomad tales by a professional storyteller are beautifully illuminated by folk-like paintings, and together they give us access to some of the treasures of these lands. This is a splendid book." Books for Keeps.