The Frog Princess Punked  – crazed feminist fairytale with girl-punk rock and live projections!
"The Slits with stories!" The Cube, Bristol
The Frog Princess Punked  combines pioneering storyteller Sally-Pomme Clayton, and girl punk band, The Swamp Girls.Together they create a hybrid hullabaloo of spoken word, distorted guitars, scorching drums, riotous songs, and dynamic performance storytelling set within a shifting collage of surreal animations and films that are v-jayed live!
What happens when Ivan marries a frog? A wicked racket! Urban meets forest. Patriarchy meets feminism. Baba Yaga meets Koschey the Deathless! This provocative collaboration combines the noise of punk with a bold narrative about the dangers of annexing the wild, and the wisdom of liberating the female. This performance is for adults only. It's gonna be angry. It's gonna be loud!
"Funny, refreshing and ballsy!" Omnibus Theatre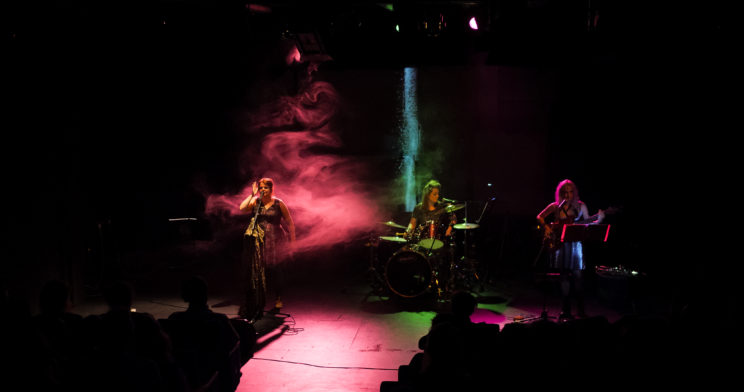 The Frog Princess Punked has been performed at: Soho Theatre; Omnibus Theatre; Bloomsbury Theatre for The Bloomsbury Festival; New River Studios; Beyond The Border Storytelling Festival; The Cube Microplex; Rich Mix. See events for coming tour 2019 and 2020.
Performed and created by The Swamp Girls:
Sally Pomme Clayton – story
Georgia Kalogeropoulou – composer, guitar, saxophone, voice
Dawn Rose – musical arrangement, drums
Fotios Begklis – live v-jaying, images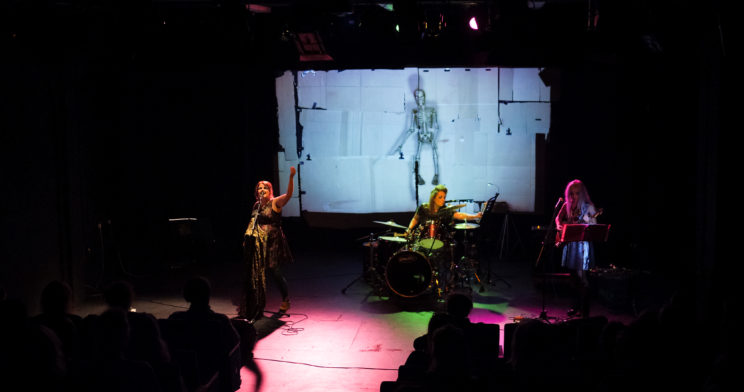 "You have reinvented storytelling with this feisty girl-punk, feminist fairytale."  Soho Theatre
The Frog Princess Punked  was supported by Arts Council funding and Omnibus Theatre  where we developed the work  as part of their 'Engine Room' programme, with dramaturgical help from director Marie McCarthy. The performance  extends the bounds of storytelling, reaching new audiences. The Frog Princess Punked  is hopping into new venues all over the place! See News and Events for upcoming performances. Have a look at our website for film clips and images.  If you would like to book this show have a look at our tour pack.
"The Frog Princess Punked was a sensation – I would have happily listened to it all over again immediately after. I was left feeling excited, refreshed and energised, a must see!" Carl Gough
"Fiery, thrilling, powerful storytelling, a truly immersive experience." Bloomsbury Theatre
About the artists:
Georgia Kalogeropoulou – composer and musician – is a multi-instrumentalist, creating soundscapes using voices, guitars, synths and circuit bent toys. Her music is strong and vulnerable, subverting expectations and challenges norms. Georgia composed the music and songs, wrote some song lyrics, plays several instruments and sings.
Dawn Rose – arranger and musician – is a professional drummer and music psychologist. She has  played and toured the world in contemporary feminists bands such as' Gertrude' and currently, 'Rantipoles' and been a session player for 'Right Said Fred' and 'Altered Images'. She is currently post doctoral research fellow at the University of Hertfordshire. Dawn has arranged the music, plays drums and sings.
Fotios Begklis  – images  – is a digital film maker exploring interactive multimedia in innovative ways, creating interactive documentaties, and working with artists and teachers. Fotios has created a collage of film, animation, and images drawing on archive sources and found footage.