The Phoenix of Persia by Sally Pomme Clayton and Amin Hassanzadeh Sahrif. Published by Tiny Owl 2019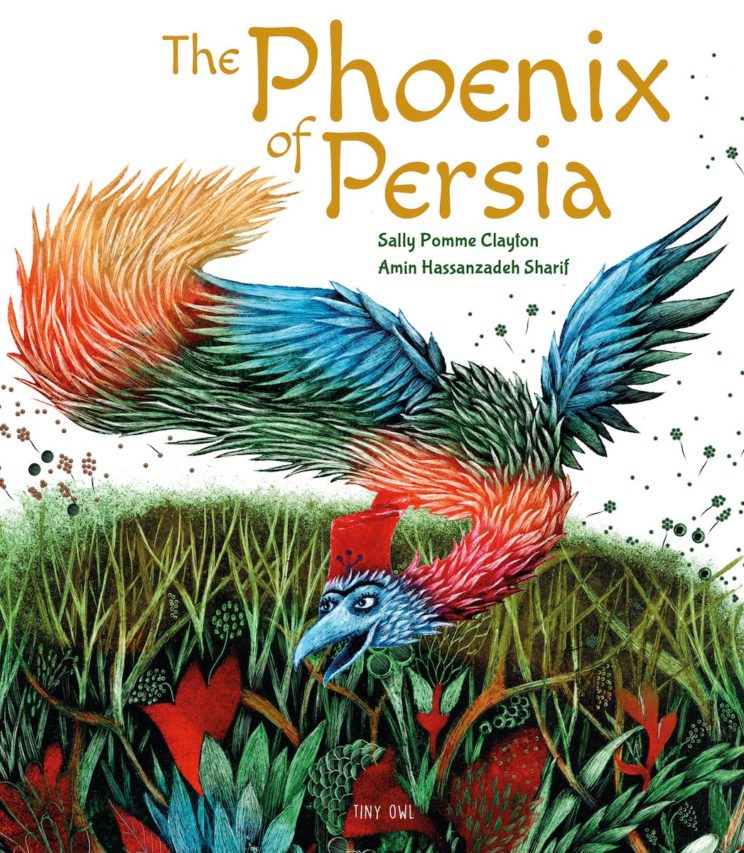 'With acceptance at its heart, Sally Pomme Clayton's telling really does feel like a drama unfolding before you, accompanied by Amin Hassanzadeh Sharif's wonderful, richly textured, jewel-hued scenes. That's not all though: there's a QR code at the beginning of the book you can use to listen to a beautiful musical accompaniment on Iranian instruments to Sally's narration. Rich in classroom potential, this book is FABULOUS!'  Reading Hub, Jill Bennet
Sally Pomme Clayton's latest picture book re-tells a traditional Iranian story, taken from the Shahnameh, written more than a thousand years ago. Baby Prince Zal is born with hair as white as snow and his father leaves him on cold hard rocks to die. Zal is found by the mythical Simorgh, the wise Phoenix of Persia. She brings the baby up in her nest and teaches him everything she knows, including forgiveness, so that father and son can be reunited again.
Sally Pomme has created a performance to go with the book. She tells magical stories about the Simorgh, including the moving tale of Prince Zal. In this interactive performance you will find out about Firebird folklore. Hear what happens when the mystical Simorgh disappears. Join in with rhythms and actions. Learn a bit of Farsi language. These stories are about acceptance and forgiveness, and discovering that each one of us is important and unique. Sally Pomme has performed this unique storytelling performance at: The British Library; for Pop Up Projects; at Persepolis shop and cafe; at Edinburgh International Book Festival 2019 and for many schools and libraries.

This superb collaboration between author, illustrator and musicians is ideal for use in schools, and related teaching resources are available. Perfect to explore traditional tales from other cultures, its underlying themes of acceptance, forgiveness and wisdom are still relevant today.'   Book Trust
TEACHERS! The book is special! Inside the book is a QR code to a free downloadable 30 min track of narration by the author, set to specially composed Iranian music where each instrument represents a different character in the story. Find out more about the music, instruments and musical tradtions in Iran with this wonderful hub created by City University   The book also has a free  downloadable free teacher resource pack, with ideas inspired that you can use across the curriculum. There is even a box or artifacts you can borrow to have a display in your classroom.
'The tale is enhanced by a downloadable narration by the author, which is set to inspiring original music, where each instrument represents a different character. The book includes details about the instruments used, as well as information about Iran's ancient tradition of storytelling, music and poetry.' Book Trust
'This story provides an insight into Iranian culture and history…It introduces Prince Zal who features in many other stories in this Iranian epic and of course the firebird a mythical creature guaranteed to capture the imagination.'
Books for Keeps