Workshops and courses are currently being offered online. Take a look at StoryU Sally-Pomme's new online resource for learning and exploring story online. She is availabe to inspire, teach, train, and mentor online.
Sally-Pomme Clayton inspires, motivates and encourages. She trains teachers; helps businesses define the story of their brand; mentors artists and storytellers; uses creative processes with community groups to develop well-being; teaches actors, librarians, nurses, parents and grandparents; engages children's imagination; and helps organizations discover their story.  She is a highly experienced teacher, trainer, mentor, coach and dramaturg. She leads practical, creative workshops, training and mentoring sessions for children and adults.  She works with everyone: community groups; universities; arts organizations; businesses; libraries; schools; museums, and individuals.
Sessions can last 2 hours or 2 days. They can be one-off or part of a series. Her workshops are tailor-made, practical, fun, positive, creative, enabling, and carefully structured to lead particpants through a meaningful and immersive process. Her sessions are packed with ideas to take away. You can: develop your storytelling skills; gain confidence in putting a book down and telling a story; discover how a story is structured; explore your imagination; find practical ways to use stories and storytelling techniques with your group; discover and develop the story of your group or organization; develop communication and expression.
She also coaches individuals, and has mentored Rachel Rose Reid, and Vergine Gulbenkian. She has been the dramaturg for Helen Chadwick helping structure several of her performances. She mentored Chris Bostock and Hearthside Tales on 'Snow Bear'.
"A fabulous day. You pitched the workshop perfectly, with strategies for teaching, ideas for lessons and activities for children."
"Very positive leader with lots of imaginative ideas."
"A very hands on and energetic session with so many useful techniques. Sally Pomme had such enthusiasm and passion it was infectious."
"Fantastic ideas I am excited to take into the classroom."
"This was inspirational."  Thornden School, Hampshire – rated outstanding by all participants.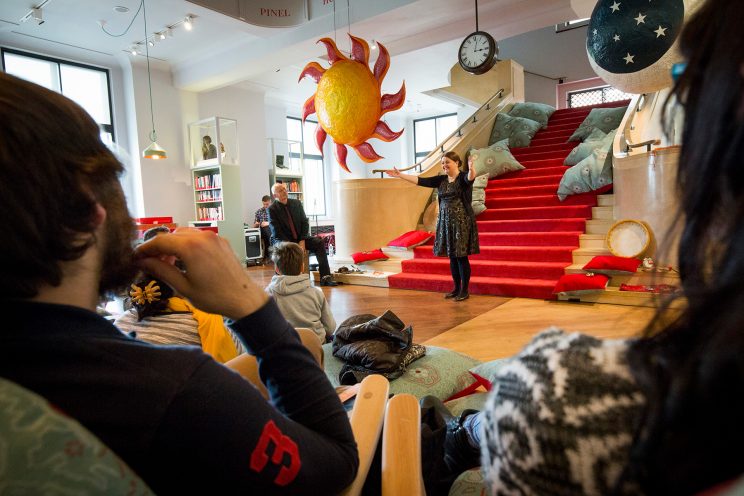 "Sally Pomme Clayton is a fantastic storyteller, with a great ability to engage audiences both young and old, as well as encouraging those she works with to share stories and develop their skills. She has a huge knowledge of stories from different cultures, works as a mentor to other writers and storytellers. She is a highly experienced, creative and professional  – every story is a treat to listen to." Lisa Mead, Apples and Snakes.