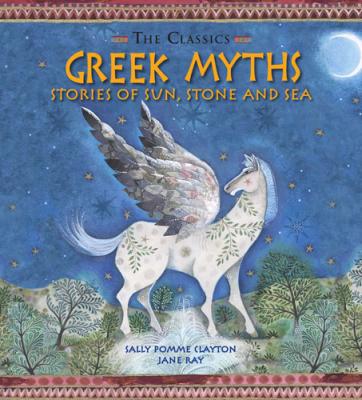 Sally Pomme Clayton performs stories from her collection 'Greek Myths – stories of sun, sea and stone' illustrated by Jane Ray (Frances Lincoln 2014). The stories are perfect for schools, families, museums, festivals and theatres.
"Ten stories of sun, stone and sea, which sum up the appeal of tales set in Greece, bringing their familiar magic." Mary Hoffman – The Book Maven
"Luminously lovely." The Times
Find out how the Universe was created. Learn about the battle of the Titans. Discover how Perseus risks his life searching for the snake-haired Medusa. Find out how to tame Pegasus the flying horse. Try out some Greek words. Meet gods and goddesses. Hear how Persephone brought the seasons, and Pandora brought hope. Answer riddles, consult the oracle. Join the hero's quest and journey back in time to ancient Greece! Sally Pomme Clayton's telling of classical Greek myths are dramatic and exciting. She weaves fragments of cultural and historical information through the myths to bring the world of ancient Greece vividly to life. With goat bells and cymbals, rhythms and songs, she introduces the classics through gripping storytelling.
"Especially good for reading aloud…beautiful, glowing illustrations" Parents in Touch