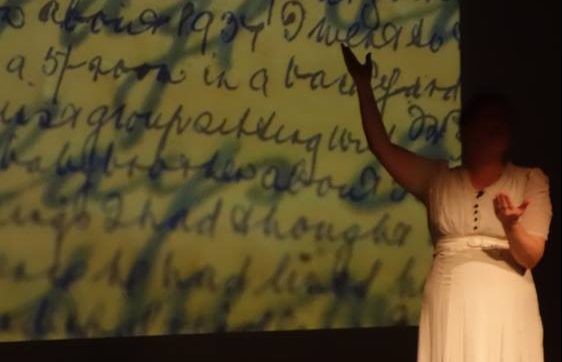 WATCH:
The Bog King's Daughter – swan maids, shield maidens and a rattling bog!
Pomme's inventive re-telling of a little known Hans Christian Andersen's fairytale. Created for The Hans Christian Andersen Story Centre, New York.
The Little Mermaid – how a mermaid is liberated from tail, legs and tongue and set free!
Under the virtual Hans Christian Andersen Statue, Central Park, New York
Storytelling Synchronicity – storytellers Katy Cawkwell, Pomme Clayton, Hugh Lupton, Emily Hennessy, Rebecca Smart share stories about strange synchronous events that have happened when they have told stories. Hosted by Katy Cawkwell with Literature Works. Watch the flm and add your own story.
LISTEN:
Podcast with The Bloomsbury Festival about The Magician's Apprentice.
Podcast with Storytelling Radio – Norway's Fortellerhuset and Georgiana Keable about female archetypes, making The Frog Princess Punked and Eros and Psyche.
READ:
The Mighty Goddess – world myths by Sally Pomme Clayton and Sophie Herxheimer

EVENTS:
East Anglian Storytelling Festival
Friday 12 – Sunday 14 May 2023, Food Museum, Stowmarket.
I will be performing The Mighty Goddess for adults and The Bog King's daughter for families! Celebrate spring with this perfect boutique festival.
All Good Bookshop
Friday 19 May 2023 7.30pm, 35 Turnpike Lane, London N8 0EP
Book launch for The Mighty Goddess with Sophie Herxheimer, stories and spells, poems and papercutting, chat and book signing. Info to come!
West Norwood Cemetery
Saturday 20 May 2023 part of ChoooseSE27 day
Persephone – a story walk. A story walk through the historic cemetery on a specially chosen route that ends at the Greek Necropolis. Pomme will tell the ancient Greek myth of Persephone on the walk, stopping every now and then to tell you the next instalment! We will look at the Greek and Roman influence on the graves as we go, from columns to acanthus leaves. Follow Persephone as she travels to the underworld and back. Discover the significance of pomegranates and how the cycle of nature and the seasons depend on Persephone's journey. The walk will last about 50-60 mins. And during that time we will not sit down, so bring sturdy shoes and waterproof clothing. Group size will be limited to 20 in order to follow the walk and gather around in narrow places. SAVE THE DATE – TICKETS TO COME AND TIME TO BE CONFIRMED
Brockwell Barn
Friday 2 June 2023
The Mighty Goddess with Sophie Herxheimer, info to come
Beyond the Border
Friday 7 July – Sunday 9 July 2023 Dinefwr, Carmarthenshire (SA19 6RT)
I will be performing The Mighty Goddess and The Bog King's Daughter at this iconic storytelling festival!
Watkins Bookshop
Thursday 13 July 2023
The Mighty Goddess with Sophie Herxheimer, info to come.
Talliston House & Gardens, Great Dunmow, Essex 
Friday 28 July 2023
The Magician's Apprentice
A secret gig, in a secret and very special place – sign up on the link to jump the que for tickets!
The British Museum
Sunday 19 November 2023
The Mighty Goddess, info to come!

SELECTED PAST EVENTS:
West Horsley Place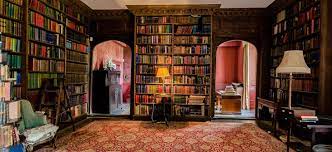 One Thousand and One Nights with Olivia Armstrong and Sally Pomme Clayton
Take a tour through this incredible house with two storytellers and hear tales of ghosts, magic and the other world. 20 and 21 April 2023 Performance last an hour and are repeated at 5pm, 6.30, 8.00pm tickets here.
The White Bear King
Story – Sally Pomme Clayton / Songs – Helen Chadwick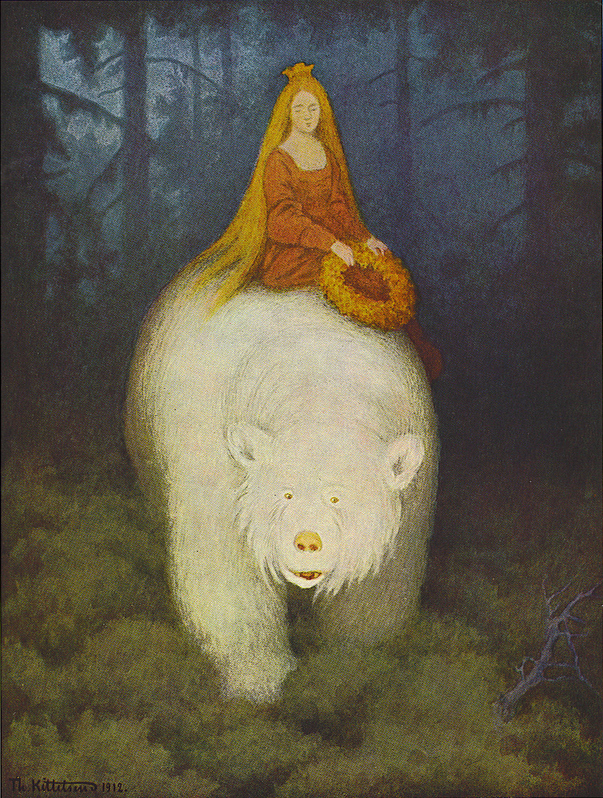 Saturday 17 December 18.30
Exeter Custom House, Exeter, EX2 4AN
Hosted by Literature Works, Quay Words.
Storyteller and writer Sally Pomme Clayton and singer and composer Helen Chadwick weave together words and songs, images and sounds, to conjure the eternal quest for love. They take you on a snowy journey through a dark, Scandinavian fairytale with a polar bear and a princess, and songs drawing on poetry from Rumi to Emily Dickinson. The fairytale is set in a world of ice and snow, frost and firesides, where a princess climbs a glass mountain to set a cursed bear free, but is she brave enough to undo the terrible Troll Hag's spell? The story is intertwined with Helen's illuminating songs, that can slow down time, bring images or emotions to life. Magical, humorous and tinged with darkness this performance is for adults and young people aged 12 and upwards. Tickets
​Telling Tales, Ealing Central Library with Apples and Snakes and Sally Pomme Clayton
Six Saturday Mornings 11.00-12.30 – 5th November, 12th November, 19th November, 26th November, 3rd December, 10 December 2022. Come and play! Children aged 7-11 join me to imagine and create! Let's write, tell, draw, make, explore stories and poems for six Saturday mornings! Its free and if you complete the course you get a bronze #ArtsAward ! Register your place.
The Magician's Apprentice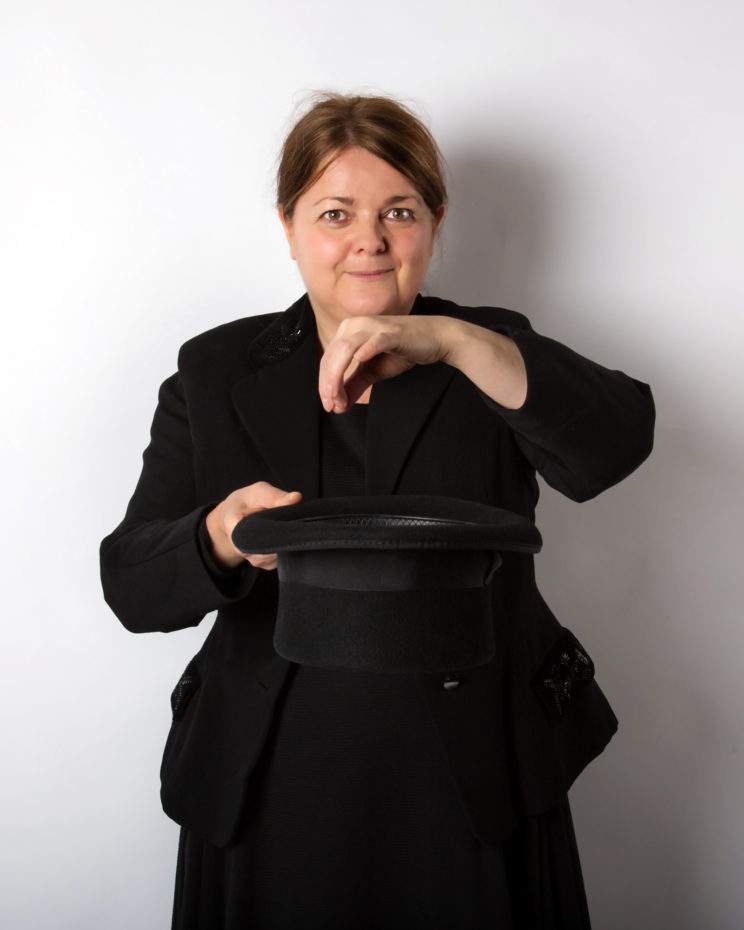 Thursday 20 October 7.00pm – 9.10pm (including an interval)
The Bloomsbury Festival at The Museum of Comedy,
The Undercroft, St Georges Church,
Bloomsbury Way, London, WC1A 2SR
In this perfect tiny theatre, with red velvet curtain explore the secret world of the magician with pioneering storyteller and writer Sally Pomme Clayton. This intimate, enchanting performance mixes: fact with fiction; fragments of myth with antique jokes; dazzling fairytales and snippets of culture and science; forgotten folklore with mysterious images on tarot cards. Casting a shimmer of stories, with a song on her mandolin and a spotted handkerchief, a top hat from a junk shop and a mail-order wand, she shifts from humour to horror, romance to rumour, searching for real magic. Pomme explores foolish and rebellious apprentices and asks why apprentices are always depicted as female and magicians male? She turns magic on its head with stories of powerful female magicians. Meet arch magician Elena the Wise and her rival the King of Jinns. Hear the oldest version of The Sorcerer's Apprentice, from Ancient Egypt. In this slight-of-hand world, objects talk, girls become doves, the magician goes mad, and you can enter another world! Join Pomme on her fairytale quest to discover what is real and what illusion, who is the apprentice and who the teacher. 2 x 50 mins with an interval. Tickets
The Magician's Apprentice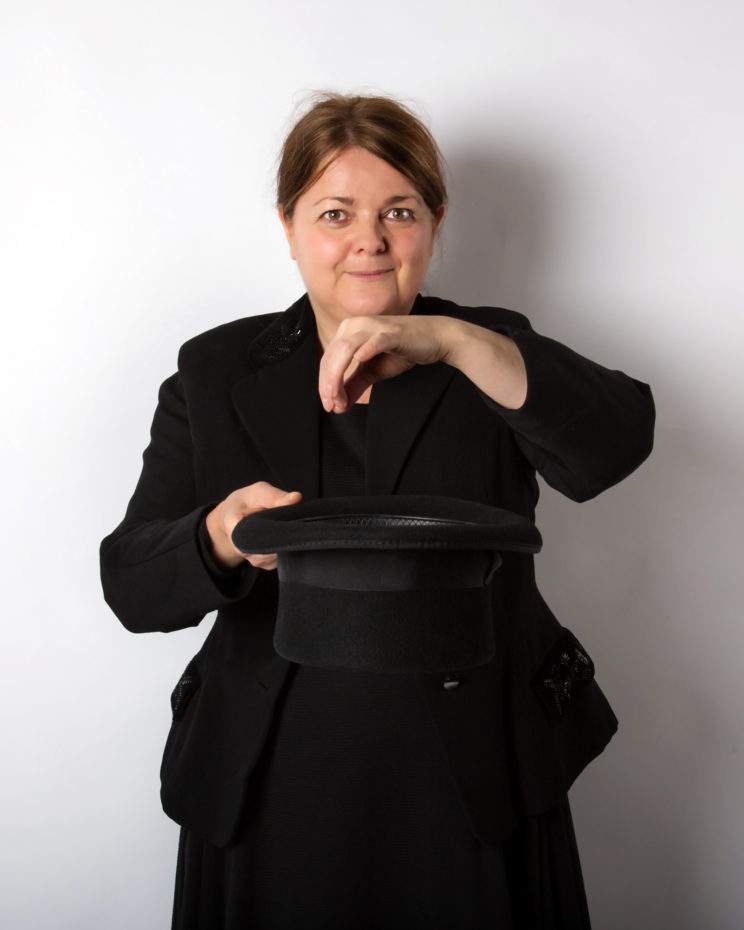 Saturday 30 July 7.45
Omnibus Theatre Clapham
Join Pomme on her fairytale quest to discover what is real and what illusion, who is the apprentice and who the teacher. 2 x 50 mins with an interval. Tickets
Crow Blood Snow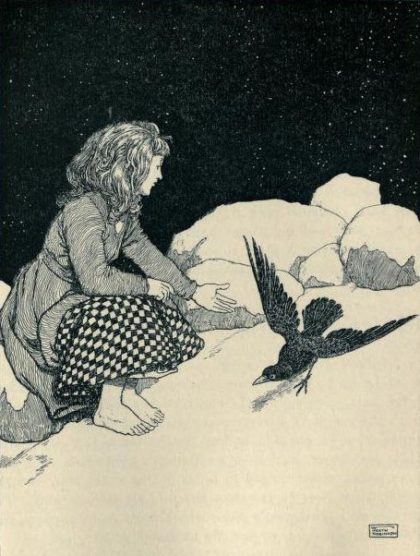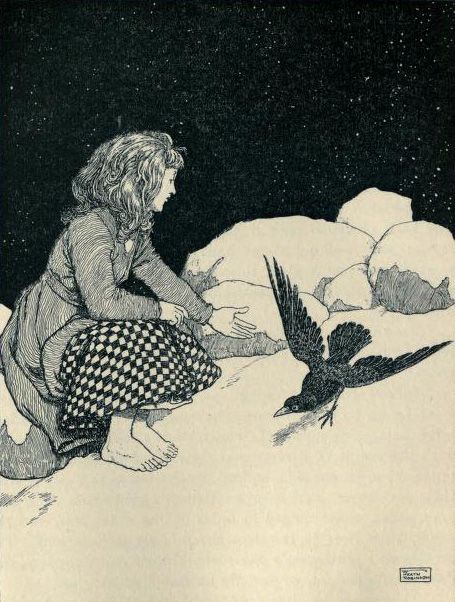 Friday 22 July 2022, 19.30
Contact marionleeper@gmail.com for tickets and address.
Cambridge
Saturday 23 July 2022, 8pm
Stapleton Farm Barn, Aylsham, Norfolk NR11 6GR
Tickets £10, email hughlupton@gmail.com to book tickets
Black as crow, red as blood, white as snow are colours seared into many fairytales summoning creation, destruction and redemption. This performance takes place at dusk in a Cambridge garden and conjures contradictory Crow, from: sparkling creation to a bloody battle between the birds and the beasts; hints of Snow White to the terrifying Valkyries; crazed tricks to lust gone wrong; utter destruction to regeneration. This darkly humorous performance weaves poetic language with song, strange musical sounds with a toy crow! Crow was there at the beginning, creates the Universe, warns of dangers, plays the fool, makes love, urges war, flies over the battlefield, brings peace, keeps memories, counts time, waits for doom, is the matter of the land itself. Discover dangerous, devilish, divine Crow. Adults only.
2 x 50 mins with an interval.
The Mighty Goddess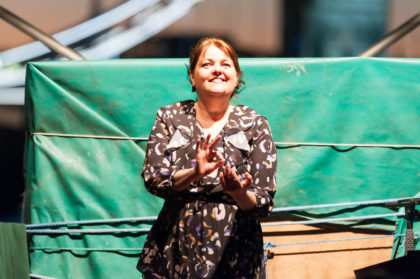 Saturday 9 July
Rhythm Tree Festival, Sticelett Farm, Thorness Bay, Isle of Wight, PO31 8NE
Sally Pomme Clayton gives a sneak preview from her forthcoming book 'The Mighty Goddess' (2023) that collects together 50 goddess myths. The goddess has multiple forms that resonate across the world in one mighty being. She repeatedly appears as: creator; virgin; warrior; lover; mother; crone. This performance tells wild, feisty, tender, poetic and erotic global myths that follow the goddess from creator to crone. The myths are for adults only – these stories of the goddess have not been tamed! They are about lust and greed, pleasure and fear, rape and rage, death and destruction, jealousy and murder, transformation and rebirth. They are filled with darkness, flashes of lightening, beating drums and naked skin. This performance is for ADULTS ONLY – graphic content. 60ish mins. straight through.
Telling Tales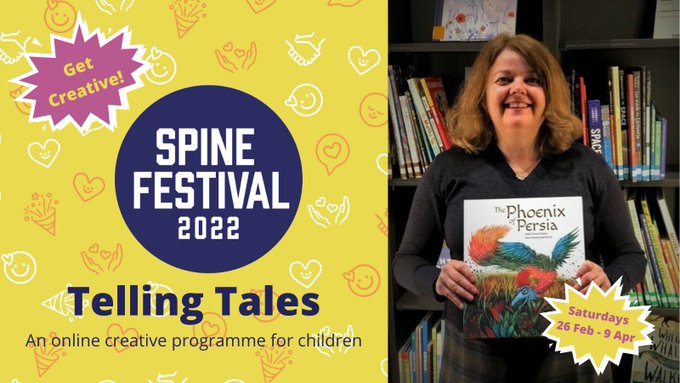 Telling Tales is a FREE online creative programme for children aged 7-11 to explore and discover the art of storytelling and creative writing. Saturdays 10- 11am. 26 February to 9 April. Led by Croydon Libraries and Sally Pomme Clayton the course will encourage children to create, write and draw their own stories and poems and gain a Discover Arts Award. To register: This is a weekly course starting from 26 February 2022 and finishing 9 April 2022. Please sign up for each individual week on Eventbrite.
Girls and Goddesses


Saturday 5 March 11am -12.00 & 14.00pm- 15.00pm
Ealing Central Library
103 Ealing Broadway Centre London W5 5JY
Celebrate International Women's day with storyteller Sally Pomme Clayton. Meet bold and gutsy heroines in stories from different parts of the world. These girls and goddesses face impossible tests, undo magic spells, and bring transformation. Some are clever, some are funny, some are foolish – all are brave! Tickets free but you need to book for a specific session:
Tickets for 11am – 12
Tickets for 14pm- 15pm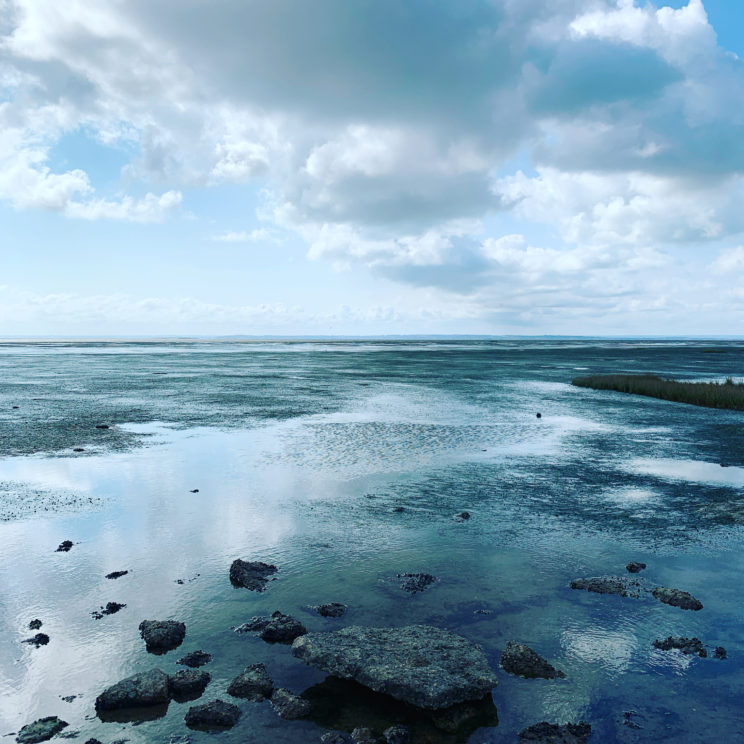 Flowing Words – Outdoor riverside creative writing workshop.
Repeated live at two locations , and once online:
Sunday 26 September, 11.00am- 12.30pm Wapping
Waterside Gardens, 104-106 Wapping High St, London E1W 2PR
For adults and children aged 12 upwards (children must come with an adult.) With the Thames Festival Trust.A creative writing journey using: observation; walking; the senses; memories; histories; dreams; imagination, to give voice to the River Thames and its stories. The workshop is also about helping you get into a creative flow, which allows thoughts and images to arise, so you can make your own river of words. There will be a short time towards the end to share some of our words.
Once Upon A Time – How Fairytales Travel
Tuesday 18 May 2021, 11.00 – 12.00, Online
Hosted by Brent Library – Reading Friends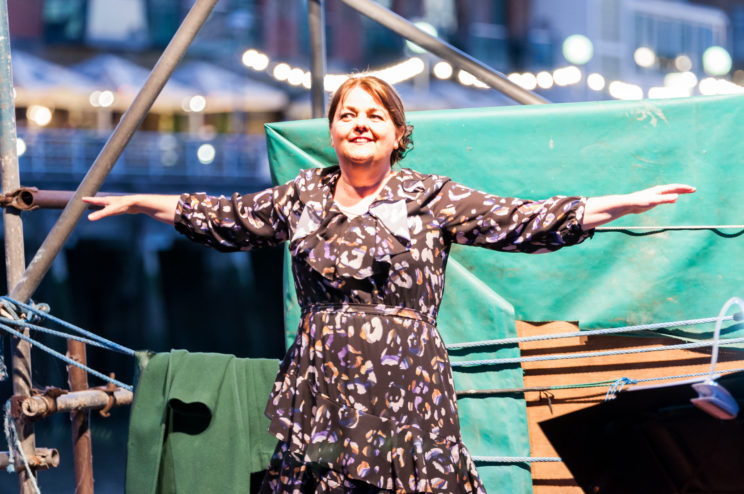 A performance/talk/workshop all rolled into one hour! Discover why fairytales are living literature. Sally Pomme will tell you some stories, introduce you to the idea of the oral tradition and talk about how versions of similar stories can be found across the world, and how, and perhaps why, the human imagination creates and re-creates these ancient stories. The session will end with a small creative wriitng exercises where you can explore your own memories of fairytales and what they might mean to you. Free but booking needed.
TALES FROM THE STATUE – a radio programme I made with producer Arlene Gregorius.
BBC Radio 4 Extra March 9th 2021 2.30pm, 10th March 2.30 pm
You will also be able to listen on BBC Sounds afterwards.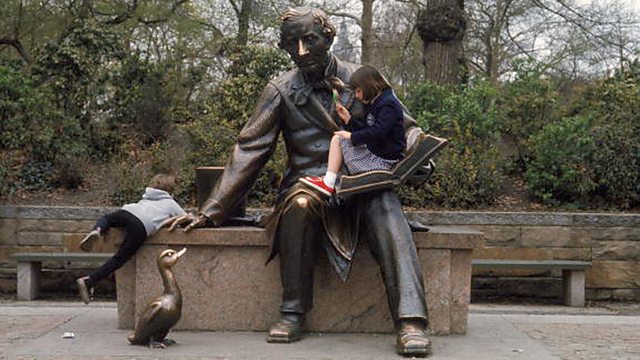 Tales from the Statue was made in 2003 it is about the Hans Christian Anderson statue in New York's Central Park. For over 40 years there has been storytelling beside this statue, started by US storyteller Diane Wolkstein. The programme interviews several tellers from the US who have performed at the statue, including Laura Simms, and discusses the value of listening and imagining with UK storyteller Ben Haggarty. Diane died suddenly, doing what she loved, collecting stories. You can read more about her here. Diane has left behind a lasting legacy of stories she collected and translated. And the storytelling at the statue continues, and is now being programmed by the inspirational Laura Simms.
DEATH ANDTHEWARRIOR MAIDEN
A celebration of World Book Night for an adults-only audience with Brent Libraries

Friday 23 April 2021, 18:30-19:45
Hosted by Brent Libraries
Tickets free but need to be booked
What is the one thing that will stop death? And the only thing that will stop war? Sally-Pomme Clayton brings to life a rare gem, the Turkic Epic of 'Dede Korkut' is known throughout Central Asia. It was written down in 14th Century Ottoman Turkey, but is still travelling the Silk Road, it's funny, it's fresh and full of contemporary relevance. The performance weaves together the dark tale of Storyteller Dede Korkut, with one of the tales he supposedly told, the uplifting romance of the warrior maiden Princess Saljan – a story of crazed desire, wild beasts and a woman warrior who will fight to the death. This performance reveals the richness of Turkic culture and the deep value of storytelling itself. Free but booking needed.
PERSEPHONE AND THE RITES OF SPRING
3rd April 2021, 4 pm for families, via zoom
Hosted by The Swedenborg Society
FREE but booking needed.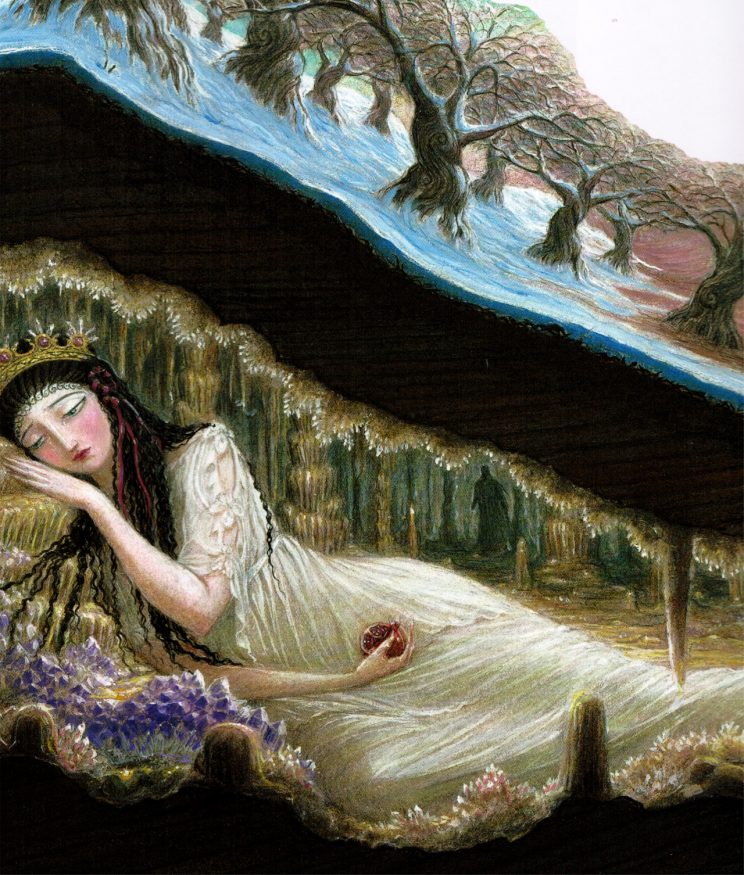 Celebrate spring with mysterious myths and fragments of folklore. Paint an egg, make a flower crown, decorate an Easter bonnet and have it ready to show everyone at the end. Join writer and performer Sally Pomme Clayton for magical stories about spring. Follow Persephone on a dark and dangerous journey to the underworld. Find out why her mother, Goddess Demeter, curses Earth so nothing grows, how Persephone returns, and why the cycle of nature and seasons depend on Persephone's journey. Welcome in the spring
The Phoenix of Persia
Edinburgh Book Festival
August 12 10.30 am


Stories of the Simorgh, including the story from Sally Pomme's latest book 'The Phoenix of Persia', and a snippet of The Conference of the Birds. The illustrator Amin Hassanzadeh Sharif will be doing special live drawing during the performance!
Mother Danube
Ships in the Night | Mother River, Father River
June 7 2019, 19.30
Cutty Sark Theatre, Ground Level, Lower Hold, Greenwich.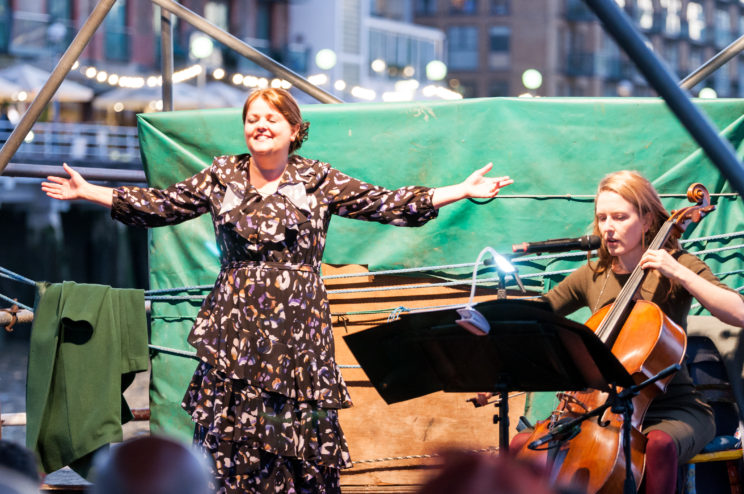 Sally Pomme Clayton and musician Emma Clare take a magical journey across Europe evoking the River Danube. A mythical meander along the Danube listening to stories, songs and music celebrating the vibrant, histories, cultures and heritage of the river. With Olivia Armstrong evoking tales of the River Thames and the history of the Cutty Sark itself, this evening celebrates Mother River, Father River.
The Phoenix of Persia – Book Launch with Tiny Owl
May 30 2019. 14.00
The British Library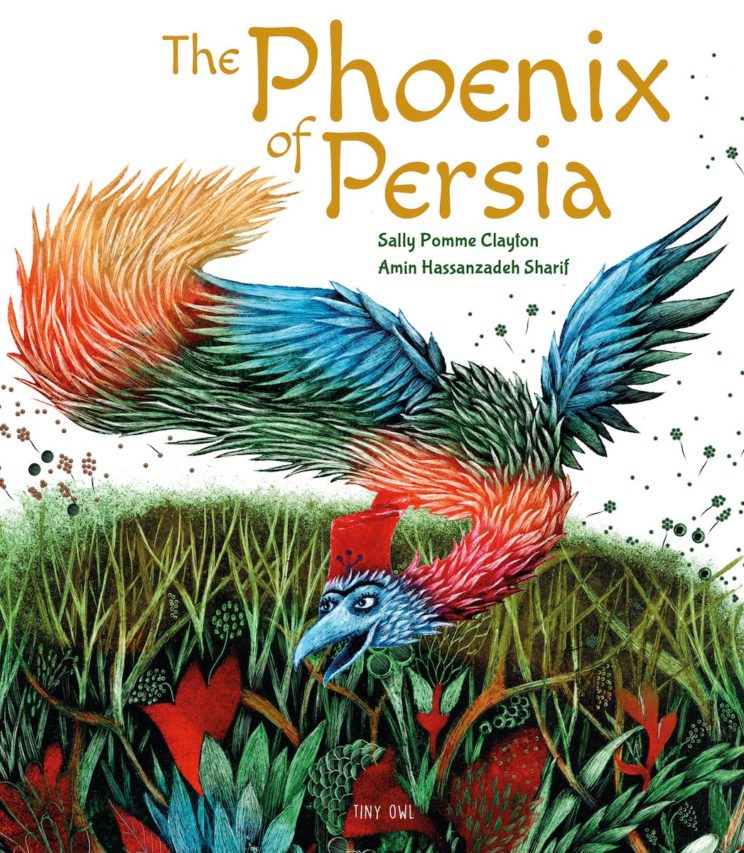 Celebrate the launch of stunning new picture book The Phoenix of Persia with a spellbinding family storytelling event from author Sally Pomme Clayton. A legend from ancient Persia, the tale of Prince Zal and the Simorgh is a mythical exploration of forgiveness, family and what it means to be truly wise. This magical story is accompanied by an original musical performance, played on traditional Iranian instruments. Children can try out the instruments for themselves and experience their unique sounds. Followed by a book signing.